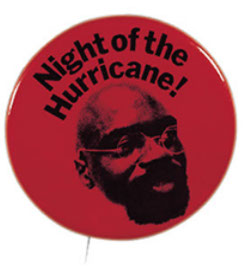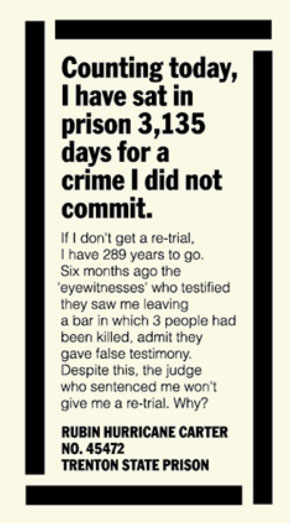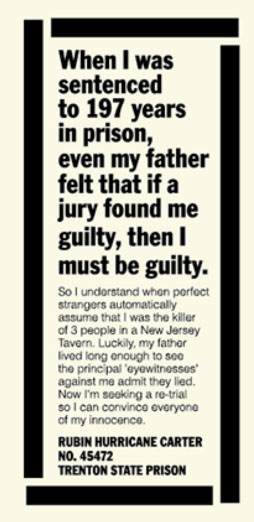 RUBIN CARTER. THE OPENING SALVO IN ENLISTING CELEBRITIES TO WAGE A GUERRILLA WAR TO FREE THE INNOCENT HURRICANE.
I showed two tiny ads to Rubin Hurricane Carter the first day I visited him in the slammer.I ran the first in the news section of the national edition of The New York Times a few days later. (If it kept you from swallowing your toast too easily as you were reading the newspaper that morning, that was okay with me.) The whole country was buzzing about this unprecedented (and outrageous) ad from a convicted killer in prison, appealing for help. As I phoned celebrities all over the nation, many told me how moved they were by his plea. Among others (in two weeks time), Muhammad Ali, Don King, Hank Aaron, Dave Anderson, Ed Koch, Gay Talese, Jimmy Breslin, Ellen Burstyn, Dyan Cannon, Johnny Cash, Norman Mailer, Walt Frazier, Pete Hamill, Rev. Jesse Jackson, Arthur Penn, George Plimpton, Bill Walton, Harry Belafonte, Cleavon Little, Budd Schulberg, Barry White, Ben Vereen, Burt Reynolds, Percy Sutton, Earl Monroe, Bud Yorkin, and finally, Bob Dylan, came to the rescue.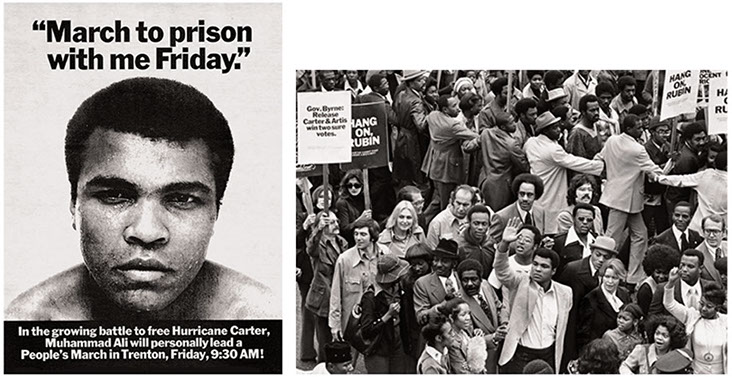 GEORGE LOIS
In 1966 black middleweight boxer Rubin Hurricane Carter was arrested for the murder of three whites in a Patterson, New Jersey, bar. During a period of intense racial acrimony, Carter was convicted and sentenced to 300 years in jail. Eight years later two key prosecution witnesses recanted, while new lawyers unearthed the suppression of vital evidence that would certainly have helped exonerate Carter. I had read about the case like any fight fan and figured that the viciousness displayed in the ring by the shaven-headed, Fu Manchu-moustached Carter had somehow exploded into the streets. One day I received a call from a young fight fan who claimed Rubin Carter had been railroaded and begged me to read Carter's book, The Sixteenth Round. I read it, I talked to Carter's lawyers and I read and reread the trial transcript. Then I got back to the young white guy who had called me, Richard Solomon. "Let's get this guy out of jail," I told him. I designed a three-inch ad that ran on page two of The New York Times that shook up the public because Rubin Carter, the vicious fighter they thought was a mad-dog killer, might actually be innocent!
Through that one small ad we were able to organize a committee of distinguished citizens, white and black. athletes, writers, entertainers (and their very apprehensive lawyers) of Carter's innocence. Fifty-four prominent citizens joined the celebrity-activist committee of The Hurricane Fund. Muhammad Ali became our chairman as soon as I convinced the heavyweight champ that Carter was framed.
Ali spoke out at every occasion for a new trial, even dedicating his Las Vegas match with Ron Lyle to Carter, announced at a press conference with a shocking film I produced of Rubin, peering from behind bars in Trenton State Prison, making a militant, devastatingly emotional appeal to the hundreds of stunned reporters covering the fight. Each celeb wrote a letter to Governor Brendan Byrne pleading for a new trial, as we organized Hurricane benefits all over Manhattan. Howard Cosell stepped into a boxing ring we set up for one event as our MC to speak up for Rubin Carter. Committee members like Dyan Cannon and I appeared on TV talk shows, and the press ran hundreds of major stories, with dozens of TV news segments. We handed out thousands of leaflets. We staged a Christmas Eve vigil at the gates of the Governor's mansion. We ran radio spots (beautifully read by Earl Monroe of the Knicks). And Ali led a march of 10,000 past Trenton State Prison, where Rubin was incarcerated, all the way to the statehouse to meet with the New Jersey governor as press photographers clicked away.
The Rubin Carter case had become famous. All this publicity inspired Bob Dylan to visit Carter in prison, learn his story and write Hurricane, an activism that Dylan had seemed to have all but abandoned. I convinced Dylan, who was on a tour with his Rolling Thunder troupe, to commit to a Night of the Hurricane concert in Madison Square Garden. He said he would do it only if it were a doubleheader: the Garden concert and a command performance in prison. The Garden concert on December 8, 1975, was the hottest ticket in town. The Hurricane cause was sweeping New Jersey.
The demonstrations led by Ali had elevated the case to a cause celebre as Governor Byrne was overwhelmed with pressure demanding a new trial. Before long, Rubin's lawyers received overtures from the state for a pardon. But Carter insisted on being vindicated in a new trial! With mounting pressure, in March 1976 the New Jersey Supreme Court ruled unanimously in favor of a second trial. With a new judge, a new jury, and the distance of a decade since the first trial, there was reason to hope that Carter would finally be exonerated. Indeed, my mole at the statehouse indicated that the authorities wanted the whole case to go away and avoid the continuing publicity of a new trial. But suddenly, Carter, out on bail, was reported to have struck a Muslim woman (who was on our committee) and the powers that be decided he had stripped himself of "martyrdom." So a new trial proceeded, but with missing evidence, disappearing witnesses, and an obsession on the part of New Jersey prosecutors to nail this incorrigible black man, the verdict was the same. Rubin Carter was returned to prison, ending a nine-month interlude of freedom. But the case remained a thorn in the foot of justice, and in November 1985, citing "grave constitutional violations" by prosecutors, Judge Lee H. Sarokin of the Federal District Court in Newark threw out the second conviction. In 1988, the United States Supreme Court upheld Judge Sarokin's noble ruling that Carter had been unjustly convicted because the Passaic County prosecutor's office suppressed critical evidence. In 1990, all charges were dismissed. After 22 years, Rubin Hurricane Carter was freed. Ali! Ali! Ali!
P.S. In early 2002, I found myself seated next to ex-governor Brendan Byrne at a roast. "Governor," I said, "the last time I was in a room with you, Muhammad Ali, Joe Frazier, Ellen Burstyn, Jimmy Breslin and I were presenting a petition for a new trial for Rubin Carter signed by 10,000 people." A little shaken, he leaned over and in a raspy whisper said "that sonofabitch was guilty, y'know." Incredulous, I said "you gotta be kidding. You can't be serious." He was adamant. "I hired a detective--a black detective, mind you, and he reported to me that Carter was guilty!" "You're shittin' me," said I. "You can't believe that!" "Well," he insisted, "he may not have been the shooter, but he was there!" "Governor, you're telling me John Artis, a 19-year old college kid riding home in Carter's car to do his homework, stopped at a bar to kill 3 white people?!" "No, he didn't do it, but Carter was there!" "Huh?" I said.