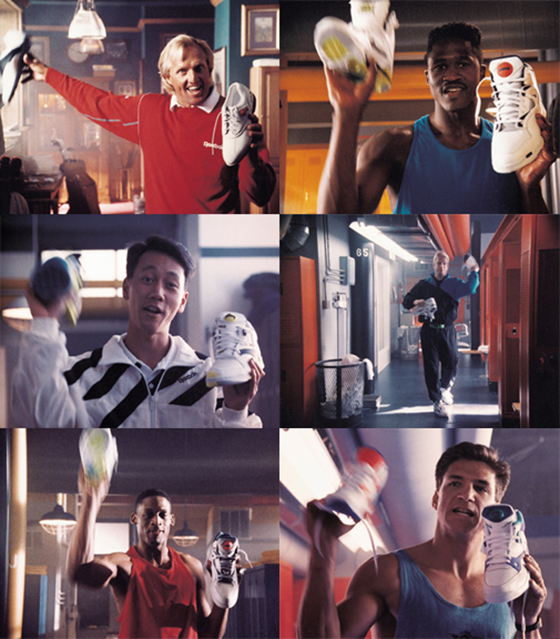 GREG NORMAN (GOLF)
DOMINIQUE WILKINS (BASKETBALL)
MICHAEL CHANG (TENNIS)
BOOMER ESIASON (FOOTBALL)
DENNIS RODMAN (BASKETBALL)
DAVE JOHNSON (DECATHLON)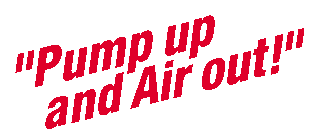 GEORGE LOIS
"PUMP UP AND AIR OUT!" REEBOK'S DOMINIQUE WILKINS GOES ONE-ON-ONE WITH NIKE'S MICHAEL JORDAN (AND SALES JUMP FROM $100 MILLION TO HALF A BILLION).
After two long seasons of commercials depicting superstars toying with the Pump buttons and acting cutesy-pie, the technologically advanced Reebok Pump shoe was perceived as a gimmick by the fitness/athletic aficionado (or entirely confused with Nike's Air product, which has no "air bladder" technology). Except for the NBA players being paid to hustle them, no serious pro or amateur athlete would be caught dead pumping up and running in a pair of Reebok Pumps. The Pump needed to be repositioned in the consumer's mind and with the trade as a serious sports performance shoe to save the dying brand. So I went one-on-one with Nike, telling consumers that the next time they buy sneakers they should nix Nike and Pump up!
My in-your-face slogan: Pump up and Air out! Reebok jocks talked up the Pump, explaining their built-in ankle support, comparing it to Nike's Air products. And each ended with a jibe at Nike's famous athletes. Dominique stabbed their imagery with: Michael my man, if you want to fly first-class...Pump up and Air out!, and then took a smooth 15-foot foul shot, swishing an Air Jordan in a wastebasket! Boomer Esiason said: Boomer knows something that Bo (Jackson) don't know...Pump up and Air out!, winging an Air Jordan into a garbage pail. And Michael Chang took a swing at Andre Agassi's brash "rock 'n'roll tennis" spot with: If you want to beat those rock 'n'roll tennis guys, Pump up and Air out!, lobbing a Nike into a trash can. Pump sales soared, and The Wall Street Journal observed that"Reebok's most recent, hard-hitting Pump ads stressing performance are putting their company back on track. Their advertising strategy has been in a state of disarray, and now they finally got their act together." Reebok stock catapulted from 10 to 35. The president of the ad agency that handled Air Jordan advertising called to threaten that Michael Jordan was going to sue Dominique Wilkins! I begged him to encourage Jordan, because the publicity would jump the sales of the Pump to a billion bucks. He sheepishly hung up.