OH YES, MTV WAS A FLOP. UNTIL I CONNED THE SAME KIDS WHO IN THE LATE '60s CRIED "I WANT MY MAYPO"...TO TAKE MICK JAGGER'S ADVICE IN THE EARLY '80s AND BELLOW "I WANT MY MTV" INTO A PHONE.
Hard to believe today, but after its first year of operations, MTV was an abject failure. A 24-hour rock 'n'roll channel? The two thousand people at the cable convention that announced MTV literally laughed the WarnerAmex honchos off the stage. Music publishers insisted the MTV concept could kill their business. Record companies swore they would never produce music videos. Advertisers considered it a joke. Ad agency experts snickered. Cable operators scoffed. A fledgling concept faced crib death. Despite an introductory period of advertising, MTV was a total wipeout. After a zero year, the whiz kids at MTV asked me to do an emergency "trade" campaign, to change the minds of the cable operators of America, most of whom believed kids who rocked were into sex and drugs. But I had a better idea, the Big Idea: to go right to the rock-loving audience and shove MTV down the rock-hating cable operators' throats. Guerrilla warfare at its nastiest. Along with my introduction of "living" MTV logos, the upstart MTV, led by the post-pubescent Bob Pittman, thought I was a wily old fox for bridging the years with my updated I Want My Maypo slogan, and I produced an audacious campaign, delivered by rock superstars Mick Jagger, Peter Townshend and Pat Benatar. I want my MTV ignited a firestorm of popular demand for MTV within minutes after the commercials ran in each market. The clincher in each commercial was this windup sequence as a voice-over proclaims: If you don't get MTV where you live, call your cable operator and say...(we then cut to Mick Jagger, who bellows into a telephone:) I want my MTV! In each city, thousands called moments after viewing the commercial and screamed for their MTV! Within months, MTV was in 80% of all households; record companies begged to have their videos on the channel; advertisers looked at MTV as a must-buy for viewers 14 to 28; and every Rock star in the world pleaded with us to mimic Mick Jagger's plea in our follow-up commercials. They flew to New York and lined up to go on film: David Bowie, Stevie Nicks, Lionel Richie, Madonna, Sting, Hall & Oates, Dire Straits, Tears for Fears, Cyndi Lauper, ZZ Topp, Eurythmics, Billy Idol, Boy George, George Michael, The Thunderbirds, Van Halen, Huey Lewis and the News, The Cars, Michael Jackson and every Rock star who wanted to explode their record sales. Six months after the start of the campaign, Time magazine called MTV "the most spectacular pop culture phenomenon since the advent of cable television – and, arguably, since the invention of the tube itself." Now owned by Viacom, MTV Networks is a financial powerhouse, among the most profitable companies in the world.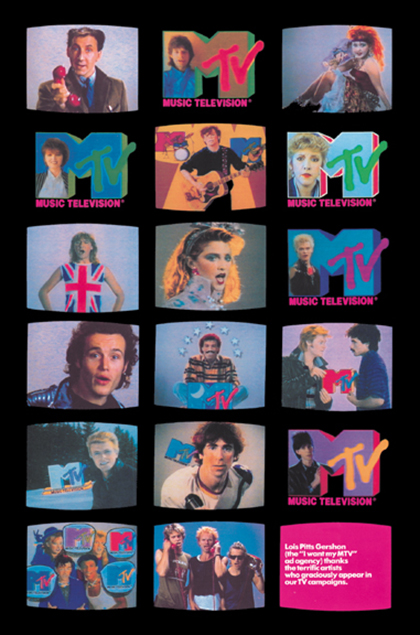 MY AGENCY AD THAT APPEARED IN THE FIRST ANNUAL MTV MUSIC VIDEO AWARDS PROGRAM IN 1985.
ACROSS: PETE TOWNSHEND, MICK JAGGER, CYNDI LAUPER, PAT BENATAR, JOHN COUGAR-MELLENCAMP, STEVIE NICKS, JOE ELLIOT (DEF LEPPARD), MADONNA, BILLY IDOL, ADAM ANT, LIONEL RICHIE, HALL & OATES, DAVID BOWIE, PETER WOLF (J. GEILS BAND), RIC OCASEK (THE CARS), BOY GEORGE (CULTURE CLUB), THE POLICE