IN 1981, MAYOR ED KOCH EXCEEDED HIS RE-ELECTION WAR CHEST BY MILLIONS. EMBARRASSINGLY, HE HAD TO ASK THE FAT CATS FOR EVEN MORE MONEY AFTER HE WON.
Even the flamboyant Ed Koch didn't have the hubris to flat out ask the big boys to pay his enormous campaign debts without some kind of explanation. He asked my advice. So I designed an invitation for a Gala Fundraising Roast to raise the bucks. The invite was a small accordion folder that showed just the head and shoulders of a pleading Mayor Koch, but when you opened the accordion you saw the whole picture of a coy mayor in trouble, with both hands holding his completely empty pockets, sticking out from his pants. In one bold stroke the mayor fessed-up and charmed the New York power elite. The folder became the talk of the town and drew a huge response, packing the vast banquet room in Sheraton Centre with fat cats in tuxedos. To greet them as they entered, I placed a life-size cutout blowup of Hizzoner, displaying his empty pockets. New York's shakers and movers emptied their pants pockets and strutted around all evening imitating the mayor. The money was raised, the slate was wiped clean, and even his worst enemies admired his Big Apple chutzpah.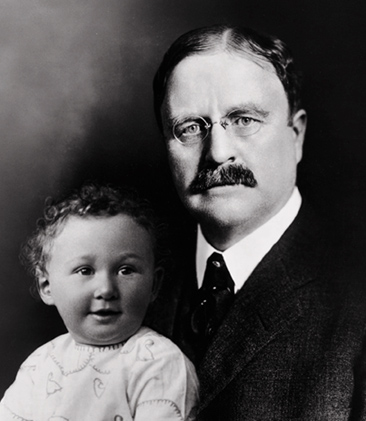 THE CLAIRVOYANT MAYOR OF NEW YORK IN 1924 PROUDLY ANNOUNCES THE BIRTH OF LITTLE EDDIE KOCH.
On Mayor Ed Koch's 60th birthday (December 12, 1984) the Democrats in town threw him a fund-raising dinner dance to celebrate. For a theme, I researched who the mayor of New York City was, way back when Edward was born. I swiped a baby photo from the Koch family album and my retoucher sat little Eddie's Jewish tush on Mayor John F. Hylan's Irish knee, as the Teddy Roosevelt look-alike proudly announced the birth of the precocious baby that would follow in his footsteps over a half century later. I was told baby Ed's first words were "How'm I doing, Mr. Mayor?!"